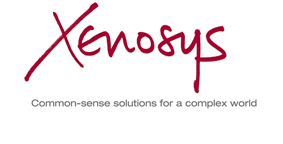 Business And Systems Consultancy
System Integration
Application Development
Resource Center
Our Work...
Xenosys is primarily a service organisation and what we do is driven by the particular requirements of our clients. This means that it isn't always easy to portray succinctly everything that we are capable of doing.

Its more accurate to say we are problem solvers , involved in all aspects of software-based information systems. Our range of services isn't restricted by list or catalogue, we are here to help - whatever the problem.

Of course our consultants have experience of many of the major packages and have developed using most languages; but even where we haven't, we like nothing better than a new challenge. But if you are interested in what we can do broadly speaking, here it is.

However the best way to find out if we can help is .........just ask!

Business and Systems Consultancy

• Business Process and Systems Analysis
• Project Fulfilment (Production of Specfications, GAP analysis)
• Project Management and Design Studies
• Value Studies (ROI & Business Case
• Specialist in Asset Management, Supply Chain and E-Commerce
• Industrial and Public Sector clients

System Integration

The Xenosys team have been involved in the integration of an array of enterprise-wide software packages including ERP systems, Groupware like Lotus Notes, Asset Management and CMMS systems such as MAXIMO, Indus and Invensys Avantis.

We also have experience of various supply chain and e-commerce solutions and have considerable expertise in Manufacturing Execution systems.

Application Development

No matter what you do, there are time when the peculiarities of your business cry out for a unique solution. After all there is no competitive advantage in just following the crowd.

Xenosys have developed bespoke applications for some of the UK's largest companies, applications which are modular, flexible and future proof, using the latest web architecture in .NET or Java.

We have successfully completed projects on a broad range of issues including Supply Chain Tracking, Switchgear Maintenance, Work Management, Insurance Claim Registration and even SHE Event reporting.

Contact us here - we are a safe pair of hands with a winning attitude.